Resin kits are a relatively inexpensive and a popular way to create model buildings for your layout but they can be very fragile to handle. This particular station building suffered a catastrophic accident when it was dropped on the floor and shattered into many pieces. Ordinarily this would have been destined for the bin but seeing as it was a birthday present from loved ones something had to be done to resurrect it.
The two gables over the main entrances had snapped off and were beyond repair, so a new parapet wall was added to the main station building so that the roof sections could be butted up to it. The walls were sanded straight and glued back together using industrial strength super glue.
In addition to the rebuild a new platform with water station and fencing to the rear were manufactured from outdoor grade materials.
The model was then spray painted with a base coat of cellulose primer and then detailed using cellulose outdoor grade paints.
Extra details such as signage and windows were added again using outdoor grade materials and printed media. The platform was given a textured surface and painted with outdoor grade masonry paint.
The fully refurbished model complete with miniature figures, post box, luggage etc. to give it that finishing touch. An expensive birthday present but well worth the effort.
Transforming your existing models
Your layout may have precious models which are looking a little tired or have been damaged over the years, but don't worry, we can repair and refurbish them for you and bring them back to their former glory. (see our Gallery section)
Enjoy running your trains later in the day, especially during those warm summer evenings by illuminating your lineside buildings with low voltage lighting bringing your layout to life.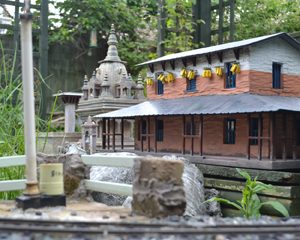 Why not have your favourite indoor model buildings re-made into weather proof ones so that you can enjoy them all year round on your outdoor layout. (see Bespoke Projects)